Electronic Building Surveys
The term as-built drawing refers to a line drawing that accurately portrays a building in its existing condition. Other synonymous terms are record or measured drawings, which indicate such drawings are produced from an existing structure. As-built drawings are considered the base for renovation projects, provide thorough building documentation, and serve as the foundation for CAFM (Computer Aided Facility Management).
The building survey is electronically performed with one of our proven systems. Often, a combination of both systems provide a cost-effective and accurate solution. Our solution is indeed unique.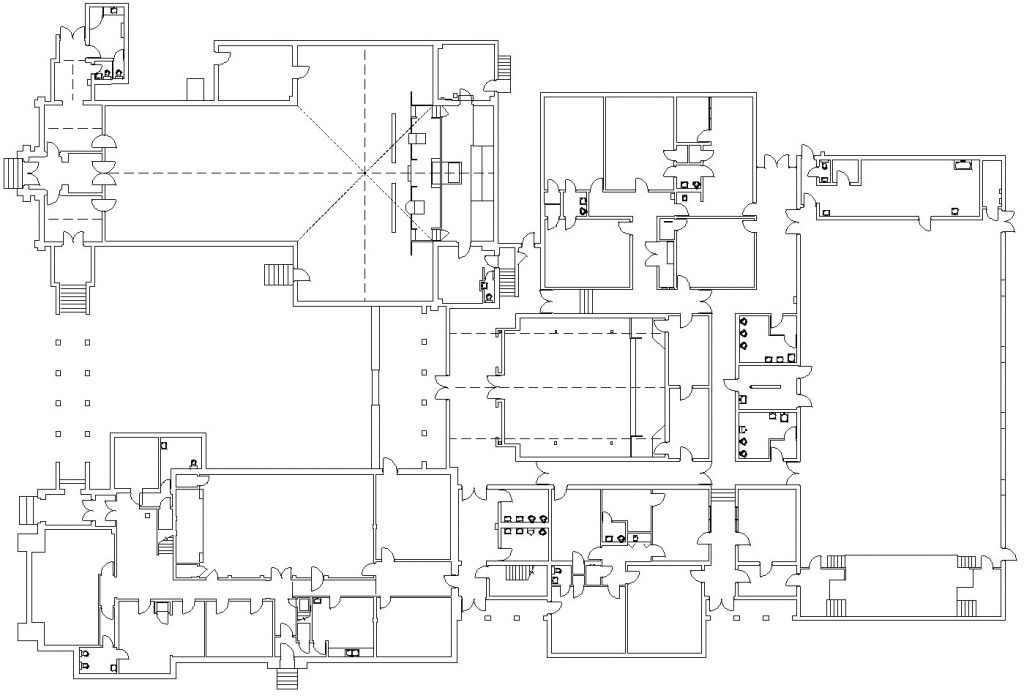 PLANS (Precise Linear Automated Numerical System) is considered a linear measurement system using a laser distance device linked to a palmtop computer and our own special software to systematically measure and record building items.
CIFPS (Computer Integrated Floor Plan System) is a radial measurement method using electronic survey equipment and our own special software to accurately measure building items within a traverse network.
The PLANS system provides a correct representative building floor plan using orthogonal CAD geometry, and is often used with basically rectangular building structures. The CIFPS system records building structures resulting in extreme positional accuracy. CAD geometry is often skewed (non-orthogonal), indicating construction irregularities. CIFPS is often used for site plans involving multiple buildings, and for additional coordinate control for the PLANS system, involving large, complex, multi-story buildings. The CIFPS system can hold a large and complex project together.


BOMA (Building Owners & Managers Association) calculations are also available for the floor plans, indicating "rentable" and "usable" square footage, based upon the ANSI/BOMA applicable standards.
Building Items
Building items are collected based upon the requested plan type. Our basic "Level of Detail" groups common items for each type of plan. Changes to the "Level of Detail" are easily made, allowing you to choose items that meet your requirements. The following table is very general. Additional items and plan types may be requested.
Note: Building items must be visible and accessible.
Floor plan
Walls, Windows, Doors, Columns, Stairs, Plumbing fixtures, Floor drains, Electrical panels, HVAC units, Base cabinets, Ceiling heights, Floor level changes, Window & sill heights
Ceiling items
Ceiling grid, Light fixtures, HVAC grilles, Sprinkler heads, Smoke detectors, and various ceiling mounted items.
Wall items
Receptacles, Switches, Telephone jacks, Thermostat controls, Computer network outlets, Fire safety items, and various wall mounted items.
Mechanical items
Basic outline of mechanical equipment; Fans, Boilers, Generators, Compressors, Pumps, Motors, and various special equipment.
Misc. items
Furniture and Equipment, Irregularities noted, Wall finish noted, Room names, Level reference datum for multi-story buildings, and various items.
Photo items
Documentary photographs. Photo-id tags on drawing. Wide-angle and 360-degree panoramic photos. (See Photography section)
Elevation (facade)
Detailed 2D (flat) drawings optionally accompanied with rectified, scaled photographs. (See Photogrammetry section)
Guidelines and Methods
Our work is performed in a systematic manner using established guidelines and methods. Every building item is recorded electronically, eliminating the need for error prone and often incomplete field sketching. Compound errors, due to consecutive measurements, are eliminated by using overall end-to-end measurements. The CIPFS survey system assigns coordinate points to specific building features, providing an accurate framework for the PLANS linear laser system.
Key-point method is a process of measuring a building in distinct phases. The exterior walls are measured first, then a central hallway is measured and tied (checked) to the exterior walls. Once a key-point structure is in place, each room is measured from the established door opening. The key-point method eliminates accumulative error, and also isolates any room error from the overall structure. The field crew can selectively measure rooms, therefore contact with building occupants is minimal. Key-point is a very important part of the as-built process.
Closure is part of the key-point method that compares ending and starting coordinate values, indicating the amount of building error at a specified location. If the room or key-point structure is perfect, or in-square, then the closure result is zero. Since buildings are seldom perfectly square, small closure errors are common. In this case, small adjustments are applied to maintain orthogonal drawing entities, thus allowing for common CAD procedures. Closure guarantees the building is measured correctly.
Auto-adjustment is used for rooms that are not perfectly square. This feature applies very small corrections to every selected distance within a room. Auto-adjustment is only used after a satisfactory closure check.
Intersection routines correctly measure rooms or structures that contain irregular angles and shapes. Survey equipment and photogrammetry techniques also accurately measure rooms or structures with irregular angles and shapes.
Delivery
Our objective is to deliver drawing files that seamlessly interface with your firm's established guidelines. The electronic file is a complete drawing, in AutoCAD format, without any requirements for third party add-on modules. Every entity within the file is drawn using conventional methods, allowing you to work with the drawing in your firm's normal fashion. You may specify virtually any aspect of the finished drawing, such as; layers, colors, line weights, text fonts-styles, block or symbol conventions.
AutoCAD DWG, DXF, and Adobe PDF files are provided by e-mail attachment.

Our fee is based on the total gross square footage of the delivered floor plans. We assume all expenses and labor costs associated with the project. The fee rate is determined by several factors such as; building complexity, required detail level, building use, and access restrictions. Specified areas may be completed and delivered in scheduled phases for large projects.